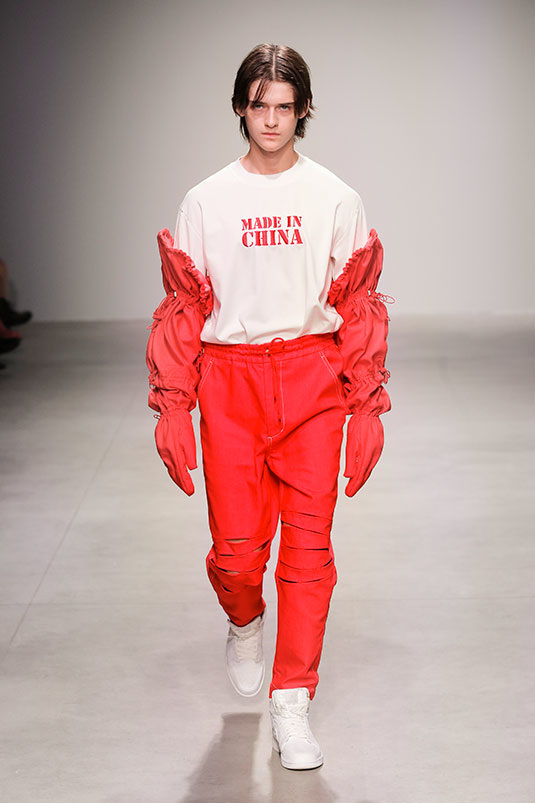 Its safe to say that one of the most anticipated shows of the Spring/Summer 2018 season was by London based designer Feng Chen Wang. Fresh after being a LVMH Prize nominee and dressing Rihanna for her world tour, the fashion world was anxious to see what the designer would send down the runway for next season and she did not disappoint.
Making a obvious political statement, the first look was bold in red with Made in China emblazoned across a white tee. As many menswear designers have done in the past nine months, Wang chose to stand up against the current political reign and maintained this theme throughout the collection. Similarly Robert Geller released his Immigrant tees and Ricard Seco showed a jacket fashioned after the Mexican flag with the words Proud Mexican across the back, both for Fall/Winter 2017.
Wang's collection also consisted of strong statements in pink, beige and navy, continuing to evolve the technical outerwear she has become known for. Gathering fabrics and playing with proportions, the designer gently played with the ever escaping notions of traditional masculinity. Surely to be an editorial favorite, many of the models donned utilitarian style gloves with cinching fasteners elbow deep. It was a fantastic debut during New York men's week and look forward to next season.
Images by BLKLN Clothing and courtesy of Feng Chen Wang / Video by Male Model Corp 3